Cambodian bloggers say a new government ban on Internet cafes near schools could mean the elimination of Phnom Penh cyber cafes altogether.
The Ministry of Post and Telecommunications has issued a circular banned Internet cafes within 500 meters of any school. It also bans Internet use to people under the age of 18 and "outlines numerous dangers that the Internet poses, such as terrorism, economic crimes and the distribution of pornography," the Cambodian Daily reported.
The rights group Licadho points out that the new ministry circular would mean "a near-complete" ban on cyber cafes.
Tep Sovichet, a 17-year-old high school student and a blogger, says he has little reason to support the new measure. Not all cyber cafes are online gaming centers, he wrote in a blog post in Khmer language recently. Many of them are resource centers, where students and others come to learn, regardless of their age, and where they have access to news and information from a variety of sources.
Tep Sovichet, who hopes to become a computer programmer and web developer, says having the cafes near schools also improves school attendance.
A blogger at KhmerBird.com writes: "I totally support the ideas behind this circular. But I think to restrict games and pornography form those Internet cafes, it is not necessary to close the Internet cafes."
Licadho Director Naly Pilorge called the ministry's circular a "heavy-handed effort to shut down affordable and accessible venues for using the Internet in Cambodia." It "is not only legally unfounded," she said. "It is a transparent attempt to block part of the population's access to independent sources of information through news sites and social media."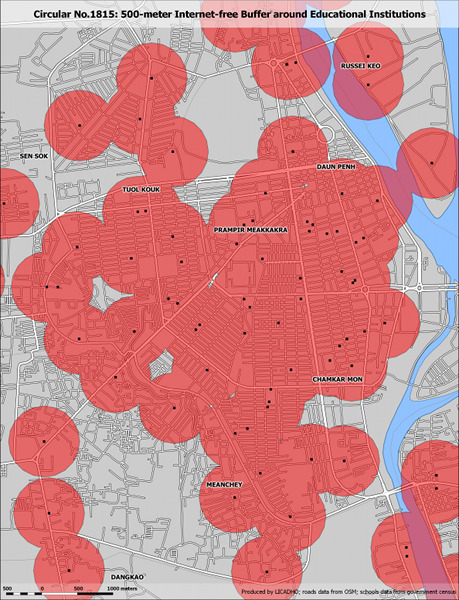 Map produced by LICADHO showing 500-meter buffer zones from education institutions (black squares)
Related links:
Internet Users Fear Online Suppression With Draft of Cyber Law