Americans shop more on Amazon or at Walmart than anywhere else, according to Mint, the budgeting application that helps its 16 million-plus users track their personal spending.
Although more transactions were recorded on Amazon in 2014, hundreds of millions more dollars–$4.2 billion compared to $3.7 billion–were spent at the discount department store than at the online marketplace that sells just about everything.
There are 4,364 Walmart stores in the United States, according to the company's website.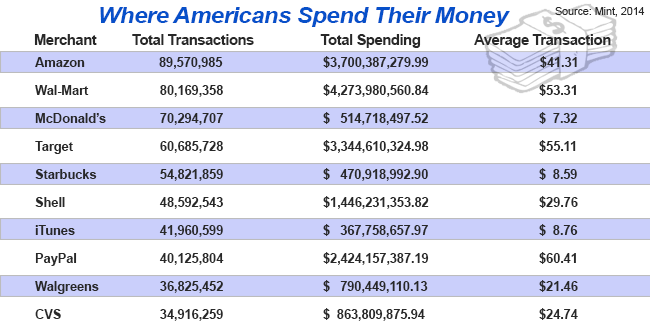 When it comes to fast food, McDonald's still reigns supreme, despite recent earnings reports that showed a 3.3% sales decline in the third quarter (April 2014-June 2014). Mint-using Americans forked out more than $514 million for Big Macs, french fries and other fare offered by the fast food giant. McDonald's has approximately 14,000 restaurants in the United States.
Other fast food restaurants where Americans spent the most in 2014 include Starbucks, Subway, Dunkin Donuts, and Chick-Fil-A.
The most frequent transactions for Mint's 16 million American users in 2014, as in 2013, were for groceries, fast food and restaurants, according to Mint. Student loan payments continue to be a huge focus for Americans; student loans were in the top 40 spending categories in 2013 and 2014.
People in Philadelphia, Pennsylvania, had the lowest car and health care expenses and the second-lowest home payments last year.
New Yorkers paid the most when it comes to home, gas and car expenses.